SAFE members' Discount for CloudAhoy Subscription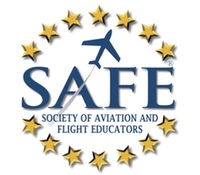 SAFE is a member-oriented organization of aviation educators fostering professionalism and excellence in aviation through continuing education, professional standards, and accreditation. Together with our industry partners and the Federal Aviation Administration, SAFE provides the aviation community with resources to advance the profession and to assist aviation educators in developing skilled, knowledgeable, and safe members of the aviation community.
We at CloudAhoy are happy to provide discount to member of Society of Aviation and Flight Educators (SAFE). CloudAhouy appreciated the role of flight instructors in making skilled, knowledgeable, and safe pilots. CloudAhoy is a valuable resource for any advancment of pilots and viation educators.
Active SAFE members price - 33% off regular price
CloudAhoy Standard: $43.55 (regular price: $65)
CloudAhoy Pro: $100.50 (regular price: $150)
Check your eligibility Buy
Not Eligible?
If you are a SAFE member and CloudAhoy does not recognize you as eligible for the discount, here are a few things you can check:
Verify you are using the same email address with CloudAhoy as you are with SAFE.
Check your privacy settings on SAFE; if you have selected "No" for sharing you email with partners, SAFE would not share your email with us and as a result you will not be able to use this discount.
If you recently signed up for SAFE, note that it can take up to 14 days for SAFE to send us the update list of new members.
If none of the above applies to you all of these options fail please reach out to SAFE Member Services for assistance via memberservices@safepilots.org.
___
CloudAhoy brings technology to post-flight debriefing, adding value to any flight training, enhancing the experience of flying, and helps make better pilots. This applies equally to primary, advanced, and recurrent training, and to day-to-day flight operation for self-improvement, and for fun.