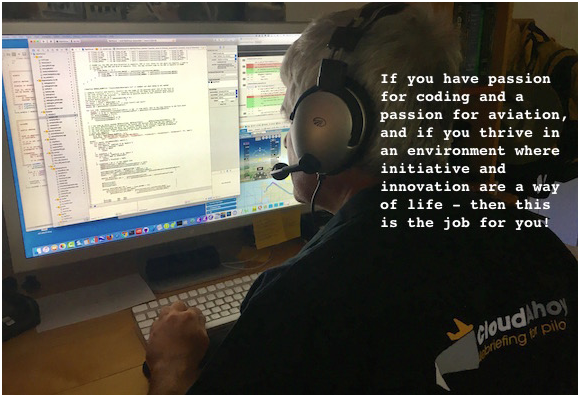 We are looking for talented and highly motivated developers to join a high paced team, in a culture of excellence, high quality and collaboration.
You will be part of a small team in which each individual makes a difference. In addition to being an excellent team player you should be comfortable working independently, and be able to communicate clearly and effectively. You should develop high quality, well tested code. You will build clear, intuitive user interfaces. You will participate in all phases of the software lifecycle, from specification and development through testing, deployment, and maintenance. You will interact with our customers and work hard on delighting them.
Full Stack
Software Developer
CloudAhoy is looking for a full stack software engineer to join our development team.

Technologies / Skills:
Client: Javascript, Vue, HTML / CSS
Server: Apache/Linux, SQL, Python
iOS and/or Android is a plus
Generalist / Algorithms Software Developer
This is a unique opportunity for an individual who loves scribbling math equations and vector diagrams on a piece of paper, then turning these scribblings into products that would make aviation better and safer.
Math and Engineering Skills
Linear Algebra, Quaternions, Calculus
Java / C++ / Python
(If you are the right person and missing some of the above skills but ready to learn on the job, let's talk!)
Being a pilot and/or having a strong interest in aviation it is a big plus. We contribute to flight training tuition.
We work hard and have tremendous fun doing it. We like each other, we love our customers, and are passionate about bringing to aviation the fantastic power of technology.
Location: we are a remote company, based in Boston, MA.
To apply: jobs@cloudahoy.com